Mama M over at My Little Life is hosting a Valentine's edition of Five Question Friday.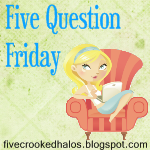 So let's get started.....

1. What is the one thing your love does for you that you can't live without?


This is a hard one for me. There are so many things that my hubby does that I don't think I could live with out.

He folds ALL the laundry because I HATE to fold clothes.

He runs to the grocery store on the way home from work because I've forgotten an ingredient or two for that night's dinner.

He lets me sleep in on the weekends.

He even paints my toe nails. (SHHH...don't tell I told you, he might be embarassed that I outed him)

If I had to to pick just one thing that I couldn't live with out, it would be the love that he has for our baby boy. Becoming a father last November has changed him so much. I wish you could see the love in his eyes everytime he looks at our son. It is SO awesome and I love him for the way that he loves Tristan.

2. When did you know your love was "the one"?

As you know from our "how did we meet" story earlier in the week, it took a while for us to get together. However, I knew from the first time that I saw him across the cafeteria at college that he was "the one". I swear as unbelievable as that sounds, it's the honest to goodness truth. It really was love at first sight!!

3. Does your love have a special ringtone on your cell?

I used to have a special ringtone for him, but we just recently got new cell phones and I haven't jazzed it up yet. I would switch it up between "I Just Called to Say I Loved You", "Take Me Home Tonight" and "Let's Get It On". =)

4. What are you attracted to most in your special someone?

Phusically, I would have to say I'm attracted to his eyes and his smile. However, what I find the MOST attractive about my hubby is his passion. He is so passionate about being a husband, a father, a son, a friend, an employee. He puts his heart into everything he does.

5. Did you know when/where he/she was going to pop the big question?

We both knew we were getting married eventually, but I can honestly say the proposal was a complete and total surprise. I think it was for him too. Evidently, he was planning something big, but on a spur of the moment decision decided that getting down on one knee in our kitchen floor was the right time to propose. It was the perfect moment.

So there you have it. A very LOVEly edition of Five Question Friday. If you want to participate, hop on over to Mama M's blog by clicking on the button above. Not only will you have fun doing it, but you might find some new blogs that you enjoy reading along the way.